2020 was a significant milestone for Lawrence because he celebrated 50 years in ministry this year.  It began after a spontaneous spiritual awakening occurred at Asbury College, in Wilmore, Kentucky on February 3, 1970, and then spread out to the city of Anderson, Indiana and Anderson College (now Anderson University) when Lawrence was in his junior year.  Hundreds of people came to Christ and rededicated their lives to Him during this passionate time of revival which lasted a number of weeks. Lawrence was touched deeply by these revivals and has devoted his life ever since to sharing the good news through songs he has written and through the spoken Word.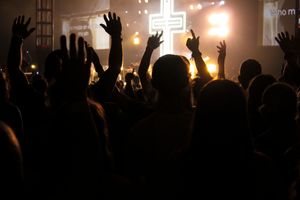 Events
Lawrence is booking into the rest of 2023 and into 2024. Please contact him soon with your requests. 
If you are interested in inviting Lawrence to do an event, speak, or share songs for a service, please use the form below or contact us by direct email or telephone at
(843) 260-0556 or e-mail us at lchewningjr@sc.rr.com.  
Lawrence does not charge a fee, and since his retirement as an adoption social worker, is free to travel more widely and minister on a full-time basis.